Puzlo is a product by Nowy Styl
Keep it locked in Puzlo.

We love to surround ourselves with multifunctional products. Puzlo meets that expectation perfectly. Let's discover all the roles that Puzlo may play!
Privacy
We all share an office space but it doesn't mean we want to show our private stuff to other people, so keep it locked in Puzlo! Your secrets are safe while staying close, at hand.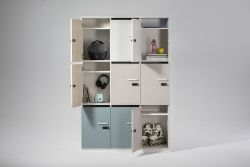 Keeping Order
Imagine that all the luggage, coats and documents your visitors bring along, are always put away in a right place.
With it on board all the mess is kept out.
Creativity
Wide range of front sizes,
23 colours of finishes,
3 types of lock,
5 colours of handles and letter slot in black or white.
Follow your creativity and build your own Puzlo!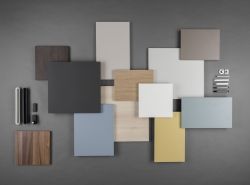 Communication
Want to leave a quick message for your team? Need to pass some documents to someone who is absent?
Use Puzlo, it's easy!
Customization
Design a Puzlo which your office really needs!
Palette of the finishes and spectacular range of dimensions give countless possibilities of customisation.
Office acoustics
Puzlo can be optionally equipped with a sound absorbing pad mounted on its back. It works perfectly when Puzlo lockers are used to partition a large open space.
What's more, Puzlo doors close quietly - nothing will disturb your concentration.