SITAGGO 2.0 MINI
...offers many functions in compact form. The clean design and the mobility of this desk enable fast adaptation not only to your working style, but also to the respective room situation.
Do you work according to the Agile Working Concept?
Or perhaps in a home office?
Thanks to its electric height adjustment, the SITAGGO 2.0 MINI fulfils every task and enables more movement and working comfort.
SITAGGO 2.0 MINI fits everywhere: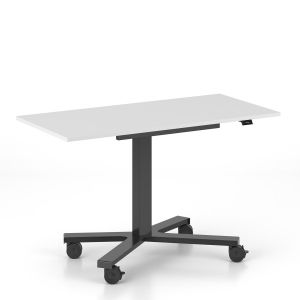 two tabletop forms in two sizes and three different bases in four colours are available
THE HEIGHT-ADJUSTMENT SPEED of 38 mm/s enables fast and convenient adjustments.
THE COLLISION-PROTECTION FEATURE, with external gyro sensor, detects when the tabletop hits a stable obstacle. The tabletop stops and moves back into a safe position.
WHISPER-QUIET ADJUSTMENT (below 45 dB).
LOAD-CARRYING CAPACITY up to 20 kg
All desktops are also optionally available
with rounded corners (60 mm radius).